As reported today in Wired (along with a preview of Occupy Comics issue 1), Occupy Comics has a megaload of roster announcements as it celebrates the release of its first issue.
Pulitzer Prize- & Eisner Award-winning creator Art Spiegelman (Maus), the creative team of activist Bill Ayers and artist Ryan Alexander-Tanner (To Teach: The Journey, in Comics), comics writer Jimmy Palmiotti (The Pro, Jonah Hex), and nationally syndicated cartoonist, 2012 Pulitzer Prize Finalist Matt Bors (War Is Boring) have joined the Occupy Comics roster, as publisher Black Mask Studios (formed by Occupy Comics organizer Matt Pizzolo with writer Steve Niles and Epitaph Records owner Brett Gurewitz) opens up the Occupy Comics webstore and officially releases Occupy Comics #1 as well as pre-orders of the collected book for the first time since completion of the project's successful Kickstarter campaign.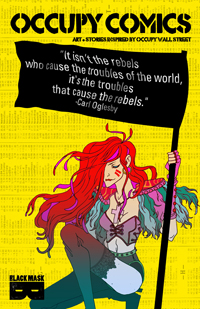 "It's really exciting to see the roster continue to grow with unique and surprising new contributors all these months later, despite the parks being cleared and the movement re-inventing itself," said Occupy Comics organizational spearhead Matt Pizzolo. "I hope this project will continue the Occupy conversation in the artistic forum of comics, which helped spawn aspects of the movement in the first place."
"We just released issue 1 to Kickstarter pledgers last week and the response has been wonderful, I think it's beating a lot of people's expectations. The team provided an unexpectedly thoughtful, insightful, and non-partisan collection of perspectives."
Following a successful Kickstarter fundraising effort last fall, Occupy Comics is now releasing the first issue of the volunteer-based anthology inspired by the Occupy protests. Coming in at 36 pages, Issue 1 features award-winning and groundbreaking creators including Ben Templesmith (30 Days of Night), J.M. DeMatteis (Justice League, Imaginalis), Dean Haspiel (American Splendor), Molly Crabapple (Shell Game), fine artist Guy Denning, Tyler Crook (Petrograd), Joshua Dysart (Swamp Thing, The Unknown Soldier), Zoetica Ebb (Biorequiem), Ales Kot (Wild Children), and others.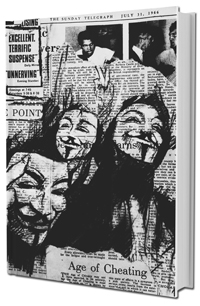 Raising nearly $30,000 from eager supporters, Occupy Comics will eventually culminate in the product of a deluxe hardcover book with work from Alan Moore (V For Vendetta, Watchmen), David Lloyd (V For Vendetta), Darick Robertson (Transmetropolitan), David Mack (Kabuki), Amanda Palmer (The Dresden Dolls), Steve Niles (30 Days of Night), Shannon Wheeler (Too Much Coffee Man), Charlie Adlard (The Walking Dead), Mike Allred (Madman), Eric Drooker (Flood!), Dan Goldman (Shooting War, '08: A Graphic Diary of the Campaign Trail), and many more.
Maintaining the historic nature of this time-capsule, the complete edition of Occupy Comics will only be available in a limited edition, hardcover format. All revenue outside hard costs will be directly donated to various actions of the global Occupy movement.
As originally reported in Wired, Occupy Comics will be distributed through the newly formed Black Mask Studios, a distribution model developed by writer Steve Niles (30 Days of Night), filmmaker Matt Pizzolo (writer-director Godkiller, president of Halo-8), and musician Brett Gurewitz (guitarist-songwriter Bad Religion, owner Epitaph Records), along with support by coordinator Aaron Colter.
Black Mask is now opening up online preorders for the limited edition, hardcover book. This is the first time it's been available since the close of the Kickstarter campaign, and the only time it's ever been available for international audiences. The book is still slated for a Fall 2012 release, with installments released as comic book anthologies along the way.
Updated Complete Roster
(in alphabetical order)
Charlie Adlard (The Walking Dead)
Mike Allred (Madman)
Marc Andreyko (Manhunter)
Bill Ayers & Ryan Alexander-Tanner (To Teach: The Journey, in Comics)
Matt Bors (War Is Boring: Bored Stiff, Scared to Death in the World's Worst War Zones)
Susie Cagle (Notes on Conflict, arrested at Occupy Oakland)
Mike Cavallaro (Parade (with fireworks), Life & Times of Savior 28)
Kevin Colden (I Rule the Night, Grimm's Fairy Tales)
Molly Crabapple (Shell Game)
Tyler Crook (Petrograd, B.P.R.D.)
Vito Delsante (Superman, FCHS)
J.M. DeMatteis (Justice League, Spider-Man, Imaginalis)
Guy Denning (painter)
Eric Drooker (Flood!)
Joshua Dysart (Swamp Thing, The Unknown Soldier)
Zoetica Ebb (Biorequiem.com)
Theo Ellsworth (Capacity, Sleeper Car)
Joshua Hale Fialkov (I Vampire, Tumor)
Allen Gladfelter (Cars, The Inspectre)
Dan Goldman (Shooting War, 08: A Graphic Diary of the Campaign Trail)
Jenny "Devildoll" Gonzalez-Blitz (Coffin Factory art collective)
Brea Grant (We Will Bury You, Suicide Girls)
Zane Grant (We Will Bury You, Suicide Girls)
Joe Harris (Ghost Projekt, Spontaneous)
Dean Haspiel (American Splendor)
Megan Hutchison (upcoming An Aurora Grimeon Story: Will-O-the-Wisp)
Joe Keatinge (Hell Yeah, Glory, Brutal)
Ales Kot (Wild Children)
George Krstic (Star Wars: The Clone Wars, Megas XLR)
Jonathan Swifty Lang (Feeding Ground)
Joseph Michael Linsner (Dawn)
David Lloyd (V For Vendetta)
Patrick Meaney (Grant Morrison: Talking With Gods)
Mark L. Miller (The Jungle Book, Luna, Nanny & Hank)
Caleb Monroe (Batman: Fearless, Hunter's Fortune)
Alan Moore (V For Vendetta, Watchmen, Batman: The Killing Joke)
B. Clay Moore (Hawaiian Dick, Superman Confidential)
Jerem Morrow (Kingdom Suicide)
Amancay Nahuelpan-Bustamante (Hijos de P)
Steve Niles (30 Days of Night, Batman: Gotham County Line)
Ryan Ottley (Invincible)
Jimmy Palmiotti (The Pro, Jonah Hex)
Amanda Palmer (The Dresden Dolls)
Laurie Penny (Penny Red)
Matt Pizzolo (Godkiller)
Darick Robertson (Transmetropolitan, The Boys)
Steve Rolston (Ghost Projekt, Queen & Country)
Riley Rossmo (Proof, Cowboy Ninja Viking)
Douglas Rushkoff (Testament, media theorist)
Mark Sable (Two Face: Year One, Rift Raiders, Unthinkable)
Salgood Sam (Dream Life, RevolveR One, Revolution on the Planet of the Apes)
Tim Seeley (Hack/Slash, Witchblade)
Smudge (2000AD)
Art Spiegelman (Maus)
Simon Spurrier (2000 AD, X-Men: Curse of the Mutants)
Ben Templesmith (30 Days of Night, Fell)
Shannon Wheeler (Too Much Coffee Man)
Anna Wieszczyk (Godkiller, Lucid)
Ronald Wimberly (MF GRIMM: Sentences)